Free Social Media Management APP
Hi Everyone. Twisty App has a new App Review. Today, we will review a Social Media Management App of a Social Media Management tool (Later.com). Today We are going to Review the Tool, and It's App. The App Allows You to Control Your Later Account from the Convenience of Your Phone. You Can Schedule all Your Social Media Posts with This App at your Fingertips.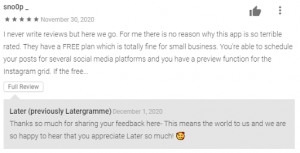 The App is Very Convenient and Easy to Use. App Gives you almost all the features on the Social Media Management Platform. So Let's Get into it and Evaluate how great this Social Media Management App is.
Later App Popularity
The Reviews for The Later App are Mixed. Some People don't Like it. Some People love it. At the same time, we were researching for this post. We found many people who were unhappy with the features and many who enjoyed it. 
But the Cool Thing to Notice about Later was they were Very Quick to Respond to their Users. When the user was Angry, they accepted the criticism and Promised to Make the User Experience Better. But many Users were Praising the App and were very happy with their services. The Later Team Approached them and Thanked them for the Feedback.
The Free Social Media Management App is very popular among small Business Owners Because it's Just Perfect for them. We will talk about why a bit later in the blog.
Available Social Media Platforms
Later App Mainly helps you Manage your Facebook, Instagram, Twitter, and Pinterest accounts. Later calls it their Social Set. You have to Integrate all these with the Later Platform, which you can do directly from the Free Social Media Management App. 
All you need to do is log in to your accounts with to Later App, and You can Grant Permission to manage your accounts. It's that simple and easy.
Later App Features
The Free Social Media Management App has a wide array of features and makes a great effort to keep the user happy and satisfied. The app allows you Up to 30 Schedule posts per month per platform. The Later App becomes one of the best choices for small business owners. 
Later App also Gives you its Calendar, but the best part is that you can switch to any time zone you wish and schedule according to that time zone. By default, it will be fixed to the user's time zone. On the Calendar, you can schedule by drag and drop. And you can view up to 2 weeks of Past posts.
Later App also provides a linkin.bio profile for your Instagram Page. This links your Instagram post to your URLs and generates analytics from Instagram. This feature is all within the Free Version.
Later also gives you the Image Library. Here you can upload all your images and filter them using labels on the images. This helps you a lot and makes your work a lot easier.
And last but not least, Later provides us with an Analytics Platform for all your Posts. It monitors the traffic on your profiles, Engagements on your posts, and the performance of your stories.
Pros and Cons
As we have Discussed the Features of the Later App, we would also need to Discuss the Pros and Cons of the Free Social Media Management Tool. Ok, so let's start with the Pros.
Later App Pros
It is a Free Social Media Management App.

Free Version Features are very well enough for Small Business Owners.

Allows one social set of the most popularly used Social Media Platforms.

Very Responsive and Also have an Idea Forum for user-based Ideas.

Also, have a Great Knowledge Base, Free Training, and YouTube Channel to Help users.
Later App Cons
The Paid Version Increases the number of Posts but not the social settings you need to pay as equal to the initial plan.

More Multiple links on the image in linkin.bio are Only available in the Paid version.

Hashtag Suggestion is only available in the Paid version.

The Free Social Media Management app is mandatory to download.
Our Experience
Our own experience with this Free Social Media Management App has been great. We use this app all the time for our regular postings and updates on social media. If you are a small business owner, This is the best free social media management app. Would you please give it a try? Here is a referral link to the tool. This link will provide you with ten extra free posts in addition to your Free Social Media Management App.
Referral: Click Here