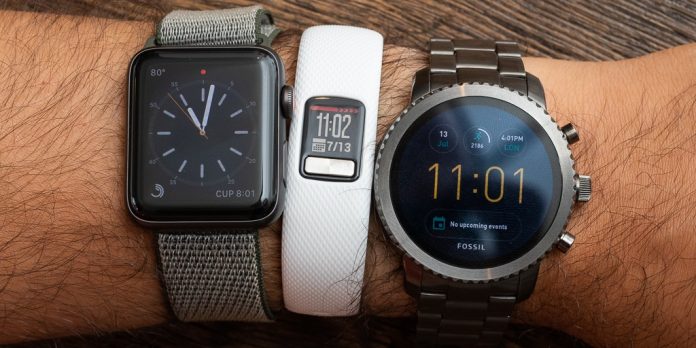 I previously wrote an article to list some best fitness trackers in 2018 and this list consists of the trackers which ranked them in the best trackers list. Take a look at this too, before choosing the best fitness trackers for you, you can also find Best Standalone Smartwatches [LTE Smartwatches] 2019 – Detailed Review. It will give you some more suggestions.
Swarovski Shine – Especially For Ladies:
Swarovski Shine is the best fitness tracker, designed with Swarovski crystal on its straps especially for ladies to track their fitness activities. You can use this tracker along with your bracelets and necklaces. They are also available with sports strap and it can be used to track your running, cycling and swimming. Solar powered versions, infinite battery life, and the attractive purple color are its upcoming features.
You can use Swarovski Shine to track your calories, sleep, and steps.
Mondaine Helvetica No.1 Smart:
Mondaine watches are the best looking wrist wear in the wearable industry so far and it was powered with MotionX tech. Its Attractive looking style and long battery life make it more expensive.
When comes to fitness, Mondaine Helvetica No.1 smart is used to track your steps and sleep.
Withings Activite:
Withings Activite is considered as a jewel in the wrist wear industry, available at the lowest price ($349). It comes up with both casual strap and sports strap, so you can do swimming and workouts with this Swiss-made analog watch. It looks really awesome, better consider this one.
Step tracking, sleep tracking, calorie burn tracking and Smart alarm are its Fitness features.
If you are not ready to spend too much money out of your pocket to buy a fitness tracker with all advanced features, then Withings Activite Pop is the best option for you. It was powered with all advanced features as in Withings Activity with slighter changes in its design. Withings Activities metallic is replaced by Plastic and the Swiss made is replaced by China.
Step counting and Fitness Tracking are its Fitness part.
Garmin Vivosmart: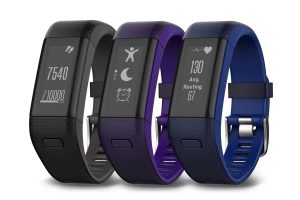 Garmin Vivosmart is a smartwatch come fitness tracker with a curved OLED display in its front. Its fitness features resemble the Vivofit and it can act like a smartwatch. It alerts you by creating vibrations and you can update all the information with an OLED screen on your wrist.
Its tracking feature includes Heart rate monitoring, steps and sleeps tracking.
Jawbone UP Move:
It was after the release of the Jawbone UP Move, everyone wants to fill their wrists with a fitness tracker. The possibility of tracking your basic sports activity (which includes running, yoga and Zumba) was the primary reason for its popularity. Add this too in your cart list.
Track your steps, sleep and basic sports activities with Jawbone UP move.
I hope referring this article will give you an idea about the best fitness trackers which are listed at the top so far. So keep reading to more updates.