Mini Militia Review
Twistyapps is back with another awesome game that you would love to play, and I know that this game will give you the fun of a lifetime. Stick-fighting games are ok. They kill time and are entertaining but nothing that you would want to spend hours on or even add to your streaming list for your twitch channel. But what if we take your stick fighters and equip them with guns and rocket shoes. The game becomes much more interesting this way, and if you add the most advanced weaponry along with military and militia skins, along with character customization. What you get is the game that we will review today, "Mini Militia Doodle Army."
This game uses the out-of-whack controls of the doodle stick fight games and equips your not easily controllable characters with guns, rifles, bazookas, and even rocket shoes to fly. The goal of you playing the game is to compete with 6 other online players and get the most kills in a single match to win. The basic rules are simple enough, but the controls and the strategies people use make the mini militia doodle army a fantastic game. So without further adieu, let's get into our mini militia review.
Mini Militia Gameplay

As mentioned above, Mini Militia is a game based on the stick fighting concept, which means your character will be hard to control. Mini Militia is a bit different from other stick fighting and doodle war games. In Mini Militia, you have some controls on your screen. You have a set of joysticks. By using the joystick controllers, your character can move it in any direction, and by using the other joystick, you can aim at your enemy. You also have some touch buttons which allow you to throw grenades if you have any.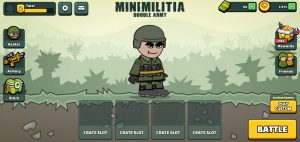 Your character can move freely in any direction as your character has rocket boots to fly. The character can fly for a limited time as the boosters have a flight limit. Once the booster reaches its limitation, your character will come crashing to the ground. The character won't die, though but will only be rendered flightless until the booster meter fills up again. You start playing the game with a rank of cadet and a simple machine gun. As you move up the ranks, you get higher rankings and unlock cooler weapons and gear.
To win a match, you need to acquire the highest number of kills. If an opponent takes your health bar down to 0, your character will scatter in pieces like really in pieces. In a few seconds, you will respawn at a random location on the map. You will be revived with a full health bar ready for your next kill or be someone's next target. Every match lasts for few minutes, and the one with the most kills out of the 6 players at the end will win.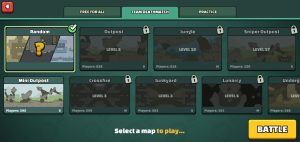 The map of every online match is selected at random. This stick fighting battle royale has many different terrains. Your next game could have tunnels, mountains, temples, forests, and others. But every landscape has a limit, and every terrain is a platform. Meaning if you get out of the limitations of your map, you better get back into the map before your boosters run out of fuel. Otherwise, you will fall to your character's demise. You will respawn on the map, but your kill will not be rewarded to anyone.
Mini Militia Character Customization

As a doodle war or stick fighting game Mini Militia can not offer many character customization options. Here is the list of things you can customize in Mini Militia. Categories are Head, Hair, body, accessories, and outfits.
All these customization categories have subcategories. The head section has all the facial features like eyes, eyebrows, mouth, head shape, and skin tone. The hair section has your hairstyles, back hair, side bangs, mustache, beards, and yes, the hair color. The body section has top wear, bottom wear, color tone, and you can even choose between a male or female torso. The accessories section gives you the choice of changing your headgear, glasses, gloves, protective vests, and boots. The final outfit section has many pre-made outfits you can unlock as you play the game and win more matches.
The character customization in Mini Militia is incredible. You can create your favorite characters in this game. People have created characters like doodle John Wick and even doodle Chuck Norris.
Mini Militia Weapons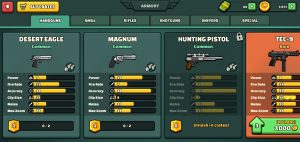 You will unlock new weapons and gain cards to upgrade already acquired weapons. The weapon section has 6 categories: handguns, SMGs, rifles, shotguns, snipers, and specials. Handguns sections have pistols, revolvers, even dual pistols, basically all single-handed weapons. The SMGs section has just 2 weapons, the UZI and MPS. The rifles section has the Tavor, XMS, AK-47, and AR-15. The shotgun section has AA-12 and Pump-action shotgun. The sniper section has M-14 and M938A.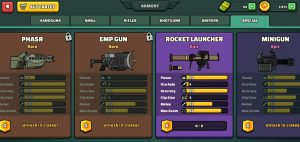 The special weapons section has the real deals. This section has flamethrowers, grenade launchers, EMP guns, Rocket launchers, and the 1 hit KO a "Machete." Most of these weapons are locked, and you either unlock them while playing or buy them with in-game currency."
Mini Militia Features
Mini Militia is an online battle royale game. You play against 6 players at a time online. You also have team deathmatch mode. In team mode, you can invite your friends and team up against an opposing team. The team with the most kills in that match will. You also have an offline mode where you play against an NPC. The game also gives you a practice mode and a survival mode where you partner up with another player and fight an endless wave of gun-wielding robots.
The game keeps you hooked with the typical reward system, loots, trophies, leader boards, and rank increases. Mini Militia does show ads but only in exchange for rewards. It's not like you are playing a game and on every respawn, you have to watch an ad, and Mini Militia also has in-app purchases.
In Mini Militia team deathmatch, you will need friends to play with you. You may not have any friends to play within the game, but Mini Militia allows you to connect with Facebook or WhatsApp and invite your real-life friends. They make you do their marketing, but it's a cool feature to have if you have a group of gamer friends.
Final Conclusion
This game has all the features of any online battle royale game. But Mini Militia is a lot more unique due to its creativity and innovation on a concept that seemed never to be a part of mainstream gaming. This creativity is what makes Mini Militia the best stick fighting battle royale game. We hope you enjoyed our Mini Militia review, and we hope we can continue to create fantastic game and app reviews like this one. If you like game reviews, don't forget to check on our smartphone games review category.