This PicsArt app was developed by PicsArt for Android users to edit their photos with the best and easy features. Maybe you have used the apps that are launched by this company. it releases many apps like, "PicsArt Color – Painting, Drawing & Sketch", "PicsArt Animator: GIF & Video", "PixelArt: Color by Number, Sandbox Coloring Book", etc.
What is it about?
Pics Art Photo Studio is a photo editing app that is easy-to-use and covers just about all the bases for consumer mobile photography. The free photo editing app has a Rich array of editing tools and filters, lots of creative user controls, robust collage features, and a wide range of photo-import options.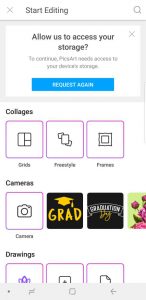 Why we love this app?
PicsArt is so fun and great app. We loved the amazing features of this app while we were using this app. It has amazing filters and stickers. The best thing about this app is that by using this you can surprise your friend making something about them or for them. It has all the features you can choose from to edit your picture like filters, coloring, masks, and effects.
Hard things!
There are a few issues that we have faced in the app. Whenever we edit a picture it stuck or take us back then we have to start again. This is the only problem that we faced while we were using this app, our overall experience was good. But there is an issue that they have to resolve as soon as possible if they want more users to use this app.
Features of PicsArt Photo:
Regular images updates from the app community;
Tools to create cutouts, crop, and stretch;
Make and share custom stickers;
Massive collection of the sticker, fonts, and more.