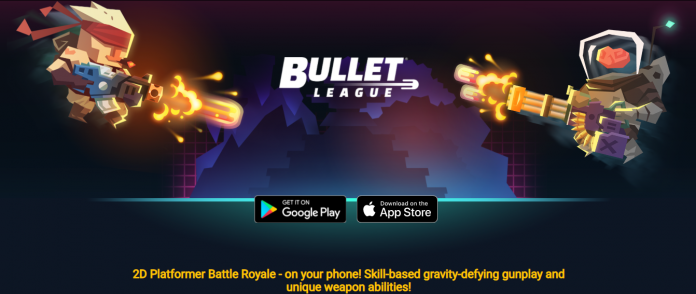 Bullet League Review
Hey Friends, we are back with another game review. This one is really out of the box, a 2D Battle Royal for Android and iOS. You are going to love this one. Today we have a Bullet League Review. Funday Factory develops this game, and my days have been fun since I started playing this game to kill time. Oh, how much this game has been entertaining. This game is like the 2D Version Fortnite. So without further adieu, I can't wait to get into this Bullet League Review.
If you are a Battle Royal shooting game fan, then you can't miss this one. The survival shooting battle royal game has a huge potential to grow into a mainstream professional league game. You start with 31 other Players and move your way up the ranks to No #1, but only if you survive all other players or shoot them down.
Bullet League Gameplay
The game is exhilarating. You get many different kinds of weapons to use to take down your opponents. There is a huge list of weapons like rocket launchers, pistols, shotguns, machine guns, even miniguns, and grenades, to name a few. You even get to mine blocks, which you can use to create walls to shield you, steps to move higher, and even blog the paths of your enemies. These blocks are unbreakable, so that they can be a good strategy. When you shoot down a player, you will get a kill trophy popup at the kill spot right there. You can even unlock cooker trophies as you play.
There are also 2 other important items which are the shield and the health canes. These help you immensely. The shield, when you use 3 of them, you can have a second health bar. The secondary blue health bar won't let your opponents reduce your Green main health bar as long as it remains. The green cane is prettyShieldShielde and will increase your health bar by more than 50% when used once. 
You need to be careful when using these, though, as they both make you vulnerable for a short while. If one of your opponents catches you while using these, you will be wholly unguarded, and they can get the drop on you. However, you can cancel this process just by moving and running with your tail between your legs. We have added a video of me playing the awesome game so that you can have a good idea of the game mechanics and strategies.
Bullet League Interface
The game has a neat interface. The graphics look cartoony but very well designed. During the game, the AI tries to keep you from avoiding confrontation. As the safe zone where you can battle with other players shrinks with time. This is a great way to end the fight quickly.
You don't fight against AI. You are always up against other players who are playing to win. This results in great strategies and awesome combos. The game has multiple modes like solo, team up, and even occasional events with targeted missions. The more kill count you have, the higher ranking you get on the LeaderBoard. All this keeps the players hooked.
The Bullet League game gives you a huge number of features so that you can enjoy the game and keep playing. You can unlock hundreds of characters, upgrade your weapons. You can even unlock new blocks and even kill trophies. At the start of the game, you are not given a drone companion, but as you play and achieve higher ranks, you also unlock your drone companion.
Bullet League Community

The Bullet League Game is played on a global level. Your every kill, win, and loss will affect your ranking on a global scale. This is the most exciting part of the game cause now you are competing at a global level. This has escalated to an international level. On the Bullet League website, they have a whole community and even a discord server.
On the discord server, they announce regular events and winners of those events. They even have team battles but don't worry. You don't have to be a part of the server to take part in those events. The game is available on both Android and iOS. You can play it on a PC via emulators or smartphones to Monitor Cables.
Bullet League also offers a license-free Creator Kit. For influencers and streamers. This is for people gaming Youtube channels, Twitch streamers, and content creators. The Kit is just the access to a google drive. It has a bunch of images and a few audio files. This can be useful to content creators like me.
It runs on a server system, and you are always connected to the closest server to you, for example. Their Singapore server is the most intimate, so I'm always connecting through the Singapore server and playing with players closest to me. In the future, they may even add an in-game chat section or an audio communication feature for team coordination while playing on team mode or just general communication among players, AKA Trolling each other after a match. You can Troll the players you defeat or fallen comrades by using Bullet League Custom Emojis.
Conclusion on Bullet League
This is a game that if you want to have a fun time, you must play. Because you will be playing against other players should be enough to make you excited about the game. Moving on to an international leader board and possibly going global is a very attractive factor for any hardcore gamer. The Game doesn't even show any ads. Yes, there is the occasional view ad to x2 your reward and in-app purchases, but they are easily ignorable.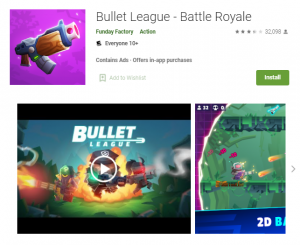 We hope you like our Bullet League Review and are interested in downloading bullet league. If you enjoyed this review, please do read more Awesome game reviews on our site. Thanks a lot to all our readers. We only do this cause you guys read our blogs and support us. Thank you all.