Words with friends were created by Zynga for Android users to improve their vocabulary. Maybe you have heard about this company and use the apps that are created by them.  It releases many apps like, "Puzzlescapes: Relaxing Word Puzzle Brain Game", "Zynga Poker – Texas Holdem", etc.
What is it about!
Most of the vocabulary building apps for adults are in the form of applications. This can sometimes be boring. Those who want something different should definitely take a look at Words With Friends 2.  The idea of Words With Friends is to add a fun element to multiple educational mobile apps that can make learning quicker. A game that gives friends the ability to compete against each other.
Why we love this app!
This is the best and fun game that we have played just like scrabble. The best thing about this game and we love the most is that you can connect and play with friends or with other players online. You will find another best thing about this app is that it lets you know the word you are playing is acceptable or not. It will be challenging your brain, keeping you active and play with people around the world, learn a new word, and keep on playing with wonderful people.
Hard things!
This is the best game to interact with friends, but we have faced some issues while we were playing this game is that there are way too many ads. It is bad enough that ads make the game down between turn. This is the only problem that we have faced, our overall experience was good.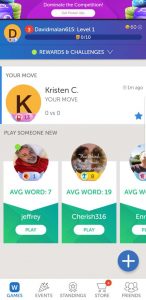 Features of Words With Friends 2:
50,000 new words to choose from;
Play challenges alone and gets a strong vocabulary;
Crossword style puzzle for an added challenge;
Build teams and beat each other's scores.
Source: Mobile App Daily