This app was developed by The Weather Channel for Android users to make them update about the weather. Maybe you have used the apps that are launched by this company, it releases many apps. Face the severe weather this summer with The Weather Channel, the world's most accurate forecast. Get live radar updates and severe weather alerts, and check weather conditions on the go. Get ready for what's ahead with local weather maps, a storm radar, and local weather forecast.
About this app!
The Weather Channel is the best weather app for iPhone and Android. It offers a mix of meteorological data like wind, temperature, and visibility on an hourly or daily basis, along with the weather forecast for the next ten days.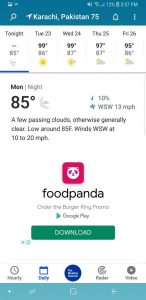 Its interactive maps use the latest Doppler radar data to show the weather events, rainfall, and severe weather alerts. The Weather Channel's social sharing features allow the user to upload images, videos, tweets, and photos.
Best of it!
We have found some interesting things while we were using this app. This is the best app for workers who work outside frequently. Through this app they can easily know about the weather and how should they prepare. The amazing feature of this app is that the weather radar that gives the notification about the bad or good weather. You can also get an hour by hour update about the weather.
Best features of the Weather app:
Personalized weather maps;
Flash flooding warnings with the storm tracker,
Severe weather alerts;
Instant insights, a live radar, a hurricane tracker & more.