Disney Sorcerer's Arena was created by Glu for Android users and maybe you have heard about this company before. It releases many apps like, "FRONTLINE COMMANDO: D-DAY", "WWE Universe", etc. This is a Disney Pixar RPG game with the ultimate turn-based RPG with real-time.
About this app!
Disney Sorcerer's Arena is the ultimate Turn-Based RPG with Real-Time PvP. Enter the bold and competitive world of the Sorcerer where every choice you make determines your legacy. Assemble your roster from scores of battle-ready Disney and Pixar legends, and test your powers in the action-packed PVP arena.
Best of it!
We have found some interesting and great features while we were playing this game and it was our first experience to play this type of strategy game and we loved it. By playing this game you will find the amazing graphics and the character. The Character design is top-notch and you have so many amazing character options to choose from them. This game is best and perfect for any Disney fan and the art style of this game is fantastic and we got the amazing gameplay. The best thing about this game is that this is a turn-based game where you can get to unlock your favorite characters and let them play.
Hard things!
As I mentioned above this game is amazing and we loved it but we have faced some issues that we are going to share now. At the initial level when we opened the game and the first issue we faced is that the screen stuck with a failed connection loop. Sometimes the game stuck in the load screen indefinitely and then we have to restart the game.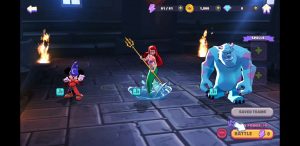 Conclusion!
This is the best strategy based game and our overall experience is good. But the other thing is we have faced some issues that the developer has to resolve these issues that we have mentioned above. Besides this, it is an entertaining game with lots of best features and you get addicted to playing this type of strategy game.
Note: We have found some other amazing game for our users if you want to play more action games then click here and check it out some interesting games.